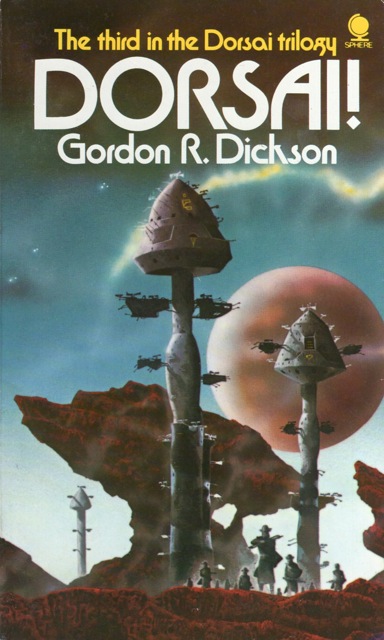 (By the way, this cover is book-accurate.)
So, in this book Dickson stays on the correct side of the mysticism/science line that philosophically-inclined SF, his in particular, sometimes falls off of. What's more, he also stays on the right side of the action/introspection divide as well, neither spending too much time tossing grenades around and shouting "clear," or becoming too absorbed in the mind of its ubermensch. The result is a story that is fast-paced and gripping, but which never forgets that it has a deeper purpose and meaning–a terrible purpose, as Paul Atreides would say.
That terrible purpose? To portray the life and times of the Super-man.
That's a spoiler, but I feel that knowing the reveal to one aspect of the plot doesn't detract from the rest of this book; there's a solid enough mil-SF plot with all the trimmings of a political thriller there on top of the aforementioned psychological aspect. It's an engrossing enough plot, albeit briskly told with an absolute dearth of padding (my paperback copy is a mere 280 pages); and while I have some doubts on the actual efficacy of certain plot elements, such as Donal's total-takeover strategy for invading a "civilized" world, or the whole issue of how very efficient it could be to contract skilled labor from other planets in lieu of, IDK, sending your own students to other planets to get educated, maybe….well, it's speculative fiction.
What I find valuable about this book is Dickson's adept portrayal, and explanations of in simple terms for the socially maladapt nerds reading it–of the tactics of mistake. Dickson breaks down thought processes involved in strategy, and the viewpoint that would support a short-term unfavorable position in order to achieve conditions favorable for a long-term goal. He shows how the personality types that would deal in such methods work–and how an honest and honorable, but equally cunning opponent can deal with such duplicity. Again–all this, but it's explained in terms teenage nerds can comprehend. (Frank Herbert did much the same, with somewhat more stylization, in Dune.)
After all, what is the Super-man? To a nerd, it's someone who understands other human beings….
So, Gordon Dickson is an author with pretty uneven output. He published a lot of stuff, some of which has been forgotten because it was overly grim and lacked balance; some of which was forgotten because it was overly fluffy and lacked staying value (as sorry as I am to say it about the valiant Hokas). At his best, though, his works speak deeply but not very clearly. He tends to write of individuals, men (Golden Age SF = male protagonist, sorry) who are alone in a crowd, in a city, in a universe: men who struggle not with other people or with that collection of other people known as society, but with themselves.
In Dickson's world, "Man versus Self" is typified in the titanic but entirely internal struggles of a character making choices and acting upon those choices, in search of the understanding of what feelings or motivations determine those choices. Internal conflict is a character who does not understand his or her subconscious motivations, but either acts boldly on them regardless–or who struggles against them and refrains from action–and, examining the consequences of their actions or inactions, gains insight into their own mind, until the time comes when they see themselves and are at one with what they see.
[I had more on this theme written down but the paper got lost somewhere. Alas.]
In Dorsai! Donal Graeme's internal conflict is with himself–to understand himself and where he stands in relation to humanity. Donal is apart from humanity, although he values it as a collection of individual lives. His external conflict is  with the shadow version of himself: someone part of humanity–possibly even the apex of humanity–who regards human populations as a disposable whole, and who acts towards them accordingly.–a conflict as natural and instinctual as it is unavoidable, inevitable, and increasingly personal. And there you have your answer to the question "okay, but so what is the plot, anyway?"
So, anyway. It's a well-crafted novel where even the love-interest subplot, on reflection, fits snugly, if a little gratingly at first. It's interconnected to the rest of the Dorsai cycle deeply enough to make me go and re-read Lost Dorsai. And The Spirit of Dorsai. And Warrior. And Brothers…
Rated: I really need to know who would win in a knife fight between Donal Graeme and Paul Atreides, but I want to be standing on a different planet when it happens.
Also rated: Donal Graeme can walk on air, because walking on water would have been way too on the nose.